Much awaited Apple iPhone X has stepped in with iPhone 8 and 8 plus in their 10th anniversary
Finally, Apple has unveiled its long awaited premium version iPhone X or pronounced as iPhone 10 at their 10th anniversary milestone reach of iPhone yesterday. Chief executive officer of Apple, Tim Cook also opened up the iPhone 8 and 8 plus together with the flagship version loaded with multiple useful features and excellent battery back up. The expected price of iPhone X would be around $999 while the iPhone8 and 8 plus are available at a price of $699 and $799 respectively. In appearance, the iPhone 8 and 8 plus are just the resemblence of the current iPhone 7 and 7 plus.
Iphone X
Overview:
Apple iPhone X, the latest version of its flagship was unveiled at an event held yesterday night at the Steve Jobs Theater, Apple's head-office at present. Phil Schiller, the senior vice president of Apple's worldwide marketing, revealed all the new iPhones at the brand new Apple Park "spaceship" stage of Steve Jobs Theater.
Display and no home button:
The latest version of Apple hovers a 5. 8 inches of full HD display with pixel density of 380 ppi (pixel per inch). The highly advanced device turns up with no home button, edge to edge display and a bump cutting into its screen. Home button functionalities such as energizing the Siri and others would be performed by a swiping up or a simple tap of finger tip.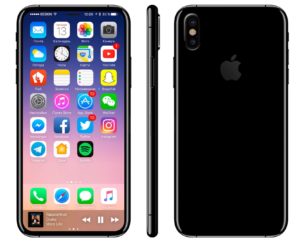 Performance and storage capacity:
The 2.3 GHz Quad core is seated on the integrated Apple A11 chipset to process all the functions without any interruption. The 4 GB RAM enables random memory access and makes more and more datas to be stored until the device turns off.
3D face ID:
The trendy and advanced device packs 3D face ID feature which facilitates the phone unlocking process. Now, users can unlock the phone only by eye contacting to it. No need of swiping, those weird passwords and crooked patterns to get your iphone unlocked. This face detecting feature easily captures your face appearance and identify your face with the use of 3D face ID technology.
Camera and battery backup:
Apple iPhone X covers 12 MP dual rear camera with amazing face detecting capacity. Auto focus, flash, digital zoom, touch to focus, these all modern android camera features are filled in this ultra-modern Apple device. For the selfie admirers the 7 MP front snapper appears with front flash.
Wireless charging with excellent battery backup is the facilities you fall in love with it. Wireless charging would capable it by anytime and anywhere charging advantage. Not to mention, Apple introduces Apple Watch and rival Samsung Galaxy S8, its two earlier version with the same wireless charging capability.
Storage and Connectivity:
The iPhone includes 64 GB internal memory with a 256 GB external memory capacity. The vast storage capacity ensures the huge data you wish to reserve in your device. The device contains widespread connectivity features ranging from 3G, 4G, Wifi, VoLTE Mobile hotspot, Bluetooth, GPS and a lot more.
Animoji
The movable and prettier versions of Emojis, Animoji are customised in the newly launched iPhone by Apple. Basically, Animojis are blend of emoji and animation together. Emojis are in action or in moving appearance that includes cat, dog, monkey, unicorn, robot and much more cutest figures.
Top ten specifications of iPhone X at a glance:
• 5.8 inch screen with 380ppi (HD)
• Quad core processor
• 12 MP dual camera with 7MP front snapper
• 64 GB internal and 256 external memory
• Wireless charging
• 3D face ID
• Ample storage
• Good battery backup
• VoLTE support
• Animoji
iPhone 8 and 8 Plus
Apple trio has also launched their duo versions iPhone 8 and 8 Plus, within few days of the announcement. Both of the devices contains almost share features and almost same appearance. They can be illustrated or described as the duo iPhone 7 and 7 plus. The duo set of iPhone is available in three cool and elegant colors such as silver, gold and space gray.
A brief differences between iPhone X, iPhone 8 and 8 plus and iPhone 7 and 7 plus are mentioned in below box:
 Characteristics

iPhone X


iPhone 8 Plus


iPhone 8


iPhone 7 Plus


 iPhone 7


Display size, resolution

5.8-inch, 2436 x 1125 pixels


5.5-inch, 1920 x 1080 pixels


4.7-inch, 1334 x 750 pixels


5.5-inch, 1920 x 1080 pixels


4.7-inch, 1334 x 750 pixels


Pixel density


458 ppi


401 ppi


326 ppi


401 ppi


326 ppi


Mobile software
Rear camera

Dual 12-megapixel


Dual 12-megapixel


12-megapixel


Dual 12-megapixel


12-megapixel


Fingerprint sensor

None


Home button


Home button

Home button

Home button

Price off-contract (USD)


Starts at $999


Starts at $799


Starts at $699


Starts at $669


Starts at $549

For More Detailed Difference you can read from here.
Note: Pre-booking of the of the Apple iPhone trio has been already started. After yesterday's unveiling the trio iPhone set, the booking amount has been increased to an extent. You can check the pre-booking and shipping date from the provided table.
| | | |
| --- | --- | --- |
| Product | Pre-order date | Shipping date |
| iPhone X | 01/10/27 | 01/11/03 |
| iPhone 8 | 01/09/15 | 01/09/22 |
| iPhone 8 plus | 01/09/15 | 01/09/22 |