Cookies are termed as the small files sent from a server to the web browser. In contrast to HTML and CSS files, cookies are secretly placed on a consumer's browser so as to track their data and different browsing activities. Due to its wide scale of advantages, they play a vital role in e-commerce and online businesses.
E-commerce websites make use of cookies to track your login id, your search history, to find your products that are added or removed from your cart and so on. To be bolder, cookies are objected not just to track the visits on the particular website, but also to determine their source. They play the role of the memory for the websites and gather the content data of a visitor that includes their search history, their shopping history etc.on the browser. These data are eventually sent to the website's server. Umm. That doesn't mean cookies are extremely secure. They are also vulnerable and hence they need to be secured as well.
Well, well, cookies are reckoned as the center of attention owing to the European Union's latest GDPR (General Data Protection Regulation). Therefore it can be inferred that the GDPR has a huge impact on EU's Cookies. And it is a high time to understand these in details.
Before moving on to the impact of GDPR on cookies, let us take a look at what is GDPR.
What is GDPR?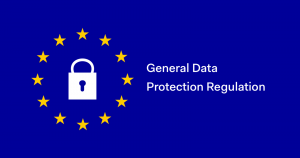 The GDPR or General Data Protection Regulation (EU) 2016/679 is the edict laid by the EU law on privacy as well as on the personal data protection of an individual with the European Economic Area (EEA) and the European Union (EU). This aimed to access control to the customers of their personal data and to remove the regulatory atmosphere for International business simply by integrating between the EU. Finally, in May 2018, GDPR regulation came into effect, which influences the data protection for an individual in the European Union. Alike cookies, GDPR also plays a huge role in digital marketing. Are you seeking digital marketing services? We guess you have grasped enough knowledge of GDPR from beforehand.
Impact of GDPR on Cookies
Cookies, to some extent, have an involvement in the field of internet privacy. Surprisingly, the regulations for cookies aren't new. They were implemented initially in the year 2011. According to the privacy director of Criteo Global, Guillaume Marcerou, one of the main concern for digital marketing is the identifiers like cookies, mobile ad Ids, etc. However, this may appear to be an exception for many US-centered organizations who are bound to regulations. But will certainly not the case for the European countries including France.
Under GDPR regulations, it is mandatory for all EU members to ponder cookies and other identifiers as personal information. On the off chance that any business is discovered to violate this regulation, will not only be penalized to a sum relatively equivalent to 4 percent of its global revenue or €20 million. Further, this rule is equally valid for the US associations which have a responsibility to gather this data about European customers.
Today, consumers have turned out to be more vigilant and aware of the security of their personal data. The data breaches on Facebook is completely responsible for this. Thanks to them. This actually enlightens the customer to demand robust data protection from the brands they rely on.
Reaching the conclusion, no matter whether it is a small brand or a big organization, it is a compulsion for them to inform the users with an inclusive cookie notice. This contains how they may use their personal data. To be a bit frank, they should have a permission for using or storing the personal data of the users. However, the permission is not coercive for cookies that are particularly used for collecting non-personal data like tracking the purchase of a product. But if a cookie collects deals with personal data like IP address, then under GDPR regulation this will be considered an infraction.
Organizations that utilize cookies for their ads will be considered liable to the regulation breach. This is because your e-commerce business or online business website is not an owner of those ads. Hence are subjected to GDPR regulation.
Are you ready to fill the fine? Or address your cookies as per GDPR rule? Make sure you are well aware of it before heading to any such issues.
Looking for digital marketing services in Kolkata, India? Hih7 Webtech and its marketing experts aim to assist you with effective services based on the latest development and strategies.